In the world of television game shows, few figures are as iconic and beloved as Vanna White. For nearly four decades, Vanna has been a familiar face on American screens as the hostess of the immensely popular game show "Wheel of Fortune." Her journey to fame, her role on the show, and her enduring appeal have made her a cultural icon. In this comprehensive article, we will explore the life and career of Vanna White, from her early days to her remarkable success as a television personality. Vanna has a racy past as well, as we'll discover!
Early Life and Career
Vanna White was born on February 18, 1957, in North Myrtle Beach, South Carolina, as Vanna Marie Rosich. She was the daughter of Joan Marie Rosich and Miguel Angel Rosich. Growing up, Vanna had aspirations of becoming a professional dancer and model. These dreams would eventually lead her to pursue a career in show business.
Before her breakthrough on Wheel of Fortune Vanna White appeared in a few minor acting roles. Her early career included appearances in television shows like The Price Is Right and Gimme a Break! However, it was a fateful audition in 1982 that would change her life forever.
Vanna White's big break came when she auditioned for the role of the letter-turner on the popular game show Wheel of Fortune. Created by Merv Griffin, the show had been on the air since 1975 but needed a new hostess after Susan Stafford's departure. Vanna, with her stunning looks and charismatic presence, was chosen for the role. Little did she know that this opportunity would define her career.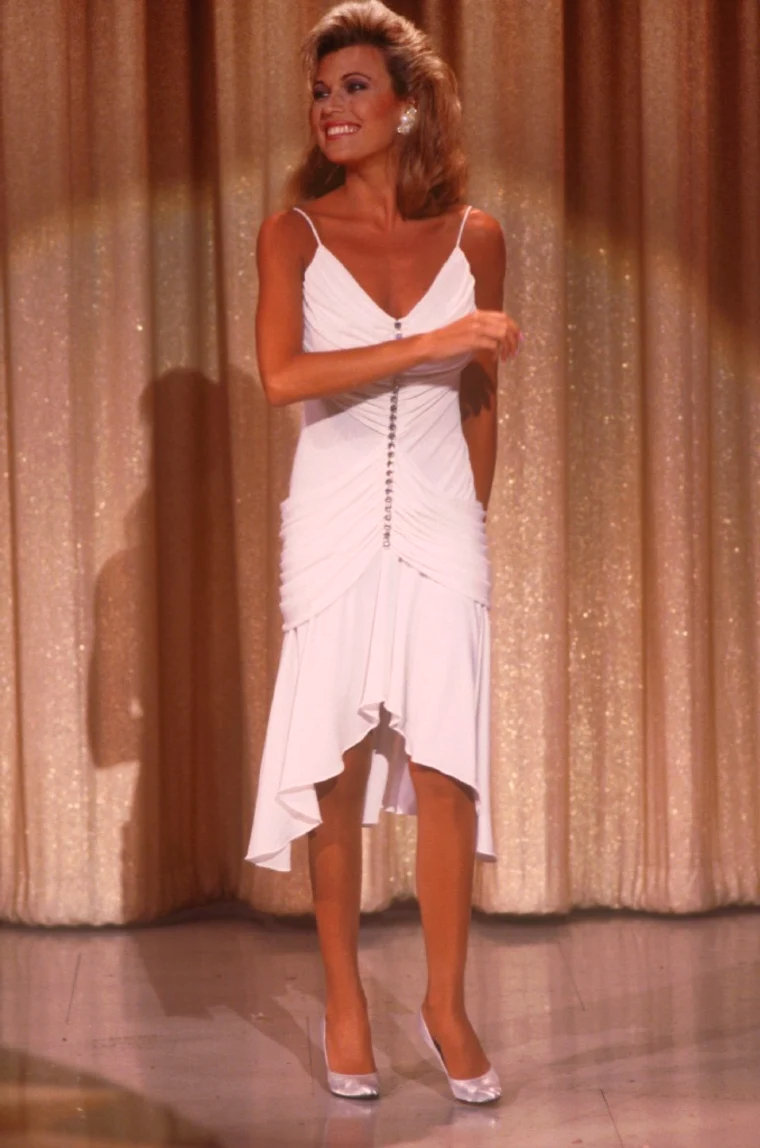 Vanna made her debut on Wheel of Fortune on December 13, 1982. Her role was simple but crucial—revealing letters on the game board as contestants guessed words and phrases. The show's format, which combined word puzzles with a spinning wheel, proved to be a winning formula, and it quickly became a ratings sensation.
Vanna's contribution to the show was not limited to turning letters. Her dazzling wardrobe and her gracious demeanor made her a fan favorite. Her dresses, in particular, became a topic of interest and are still remembered fondly by viewers. Over the years, she turned over thousands of letters and became an integral part of the show's success.
Wheel of Fortune became a cultural phenomenon, and Vanna White played a significant role in its enduring popularity. The show's longevity is a testament to its engaging format and the chemistry between its hosts, Pat Sajak and Vanna White.
In 1987, Vanna White earned a place in the Guinness Book of World Records as the world's most frequent clapper, often clapping more than 600 times in a single episode. Her dedication to her role and her genuine enthusiasm for the contestants success endeared her to millions of viewers.
In 2006, Vanna was honored with a star on the Hollywood Walk of Fame, recognizing her contributions to the world of television. This achievement was a testament to her enduring appeal and her status as a beloved television personality.
Personal Challenges, Triumphs, and a Racy Past
Despite her glamorous on-screen persona, Vanna White has faced her share of personal challenges. One of the most significant challenges was the tragic loss of her fiancé, John Gibson, in a plane crash in 1986. This devastating event profoundly impacted her life and left her with a deep sense of loss. In addition to personal tragedy, Vanna has also experienced health issues. In 1992, she was diagnosed with a benign tumor in her uterus, which required surgery. Her resilience and determination helped her overcome these obstacles and continue her career on Wheel of Fortune.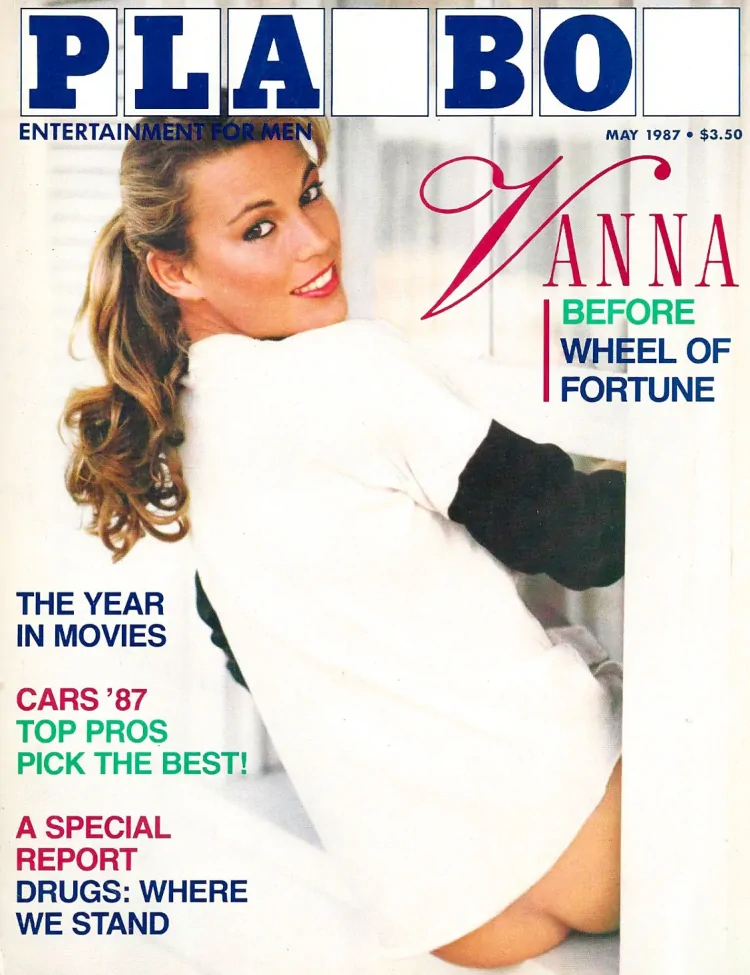 While Wheel of Fortune has been the centerpiece of Vanna White's career, she has also explored other opportunities in the entertainment industry. She has made guest appearances on various television shows, including sitcoms like Married with Children and The King of Queens. She has also lent her voice to animated series such as The Simpsons and Captain Planet and the Planeteers. Vanna also infamously appeared in Playboy magazine – those pictures are on her nude nsfw entry here. Later expressing a tinge of regret, Vanna stated she wouldn't have posed for them if she could go back in time. A shame, as she looks seriously fantastic in them.
Vanna White's remarkable journey from a small-town girl to an iconic television personality is proof of her talent, determination, and enduring appeal. Her role as the letter-turner on Wheel of Fortune has made her a beloved figure in American pop culture, and her contributions to the show's success are immeasurable.
Beyond her glamorous on-screen image, Vanna has faced personal challenges with grace and resilience, endearing her even more to her fans. Her star on the Hollywood Walk of Fame and her record-breaking achievements are a testament to her lasting impact on the entertainment industry.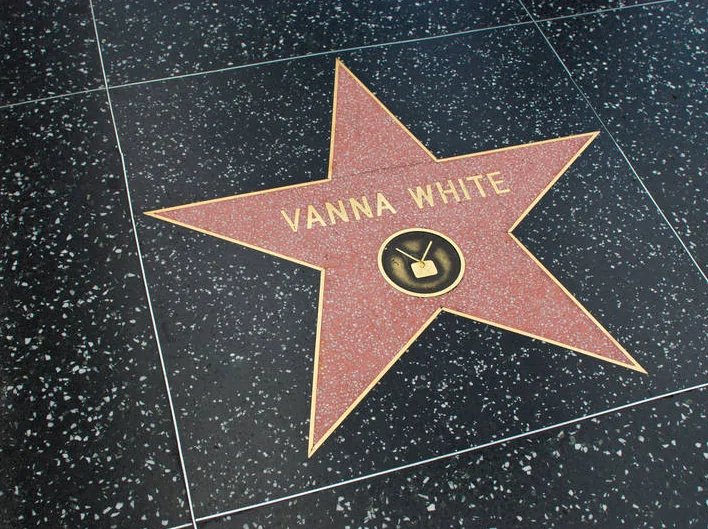 Vanna White's legacy as a television icon remains firmly intact. Her story is not just one of fame and fortune but also of perseverance, resilience, and the enduring power of a genuine smile. What a girl!