Bai Ling is the Asian actress hailing from Communist China. Bai was actually in the Chinese People's Liberation Army believe it or not. Her role was as an entertainer rather than shooting guns or driving tanks though! Bai moved to America in 1991 to further her acting career. Notorious for her love of madcap outfits, Bai is the epitome of a woman who doesn't take life too seriously, and therefore has a heck of a good time just being alive. As the old saying goes: That's good advice, Marty!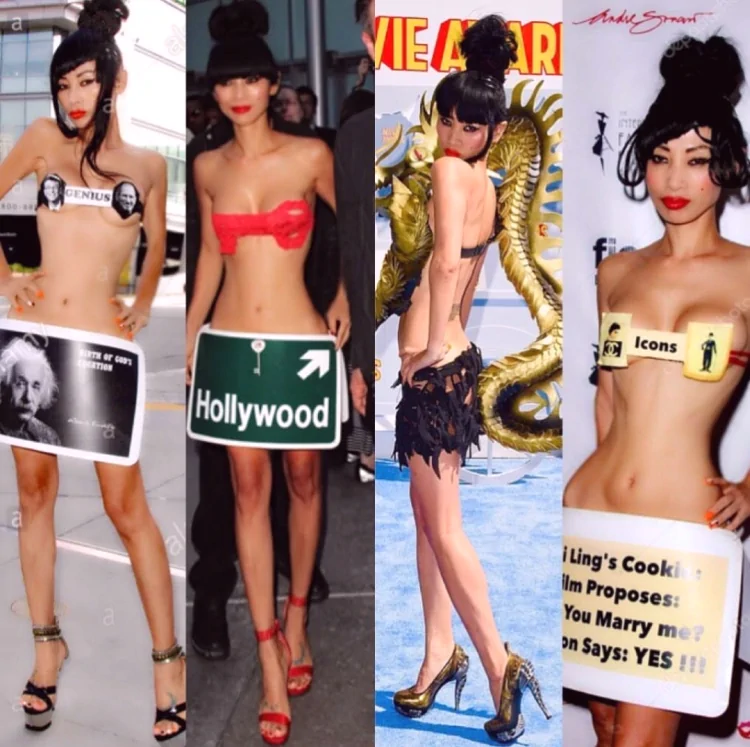 Who'd have thought wearing signs for skirts would be a trend! That's Bai though – this woman loves to make statements wherever she goes.
Wacky Fashion Choices
Bai Ling is known for her unique and sometimes outrageously crazy outfits, which have garnered both praise and criticism from fashion critics and fans alike. She often appears on red carpets and at events in bold, daring outfits that make a statement.
Some of her more memorable fashion moments include wearing a dress incorporating a 3D dragon to the 2015 MTV Movie Awards – can you imagine trying to maneuver in this? And how many people she must have smacked into with it? "Oh, it's just Bai" is probably most of the responses after getting drinks knocked out of hands 😂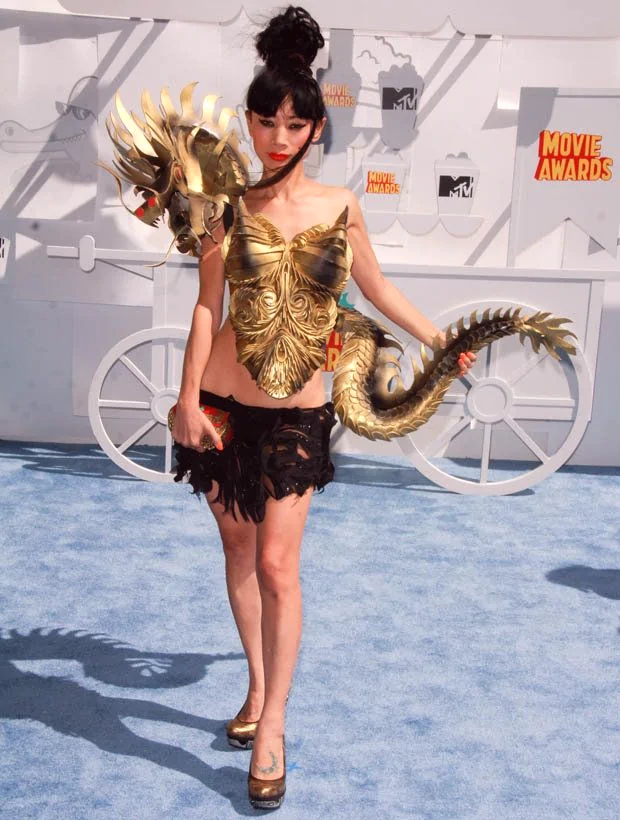 And at the International Fashion Film Awards Bai stepped out in this creation.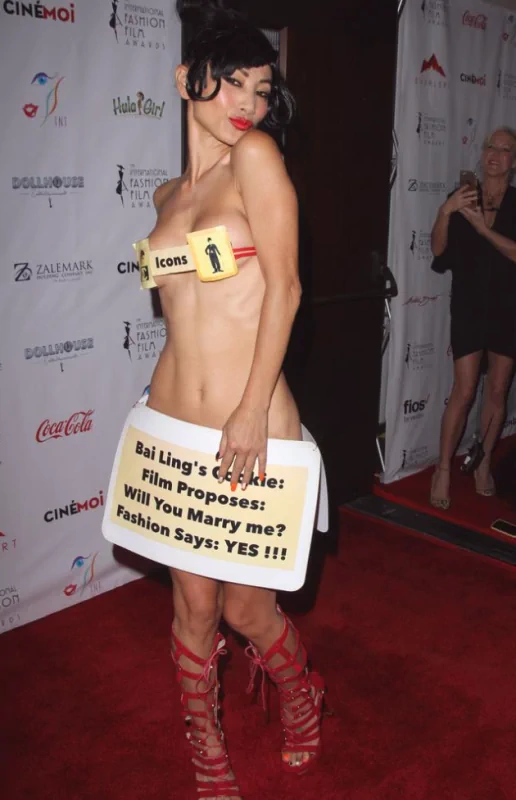 Pretty daring move, to put it mildly. Ling has plenty of previous for risque outfits and wardrobe malfunctions. This is a safe for work site, so we won't publish them here. For the curious though, you can see the many instances of said wardrobe malfunctions at https://celebmeat.com/bai-ling-nude/.
Bai Ling's fashion choices are often unpredictable and unconventional, featuring bold colors, unconventional shapes, and unexpected materials. She is known for mixing and matching different styles and cultures, creating unique and eye-catching outfits that reflect her individuality. Observe.
While her fashion choices may be considered eccentric or wacky by some, Bai Ling has stated that her approach to fashion is about expressing herself and having fun. She has said in interviews that she enjoys experimenting with different looks and pushing boundaries, and that she believes fashion is an art form that allows people to express their creativity and individuality.
Despite the occasional criticism she may receive for her fashion choices, Bai Ling has some pretty appreciative boldness and fearlessness when it comes to fashion. Her unique style has become a signature part of her public persona, and we look forward to seeing what she will wear next. One thing is for sure, it'll be just as out there as her past ensembles! Bai does also step out occasionally in vanilla outfits. She looks pretty good too, as befitting anyone famous.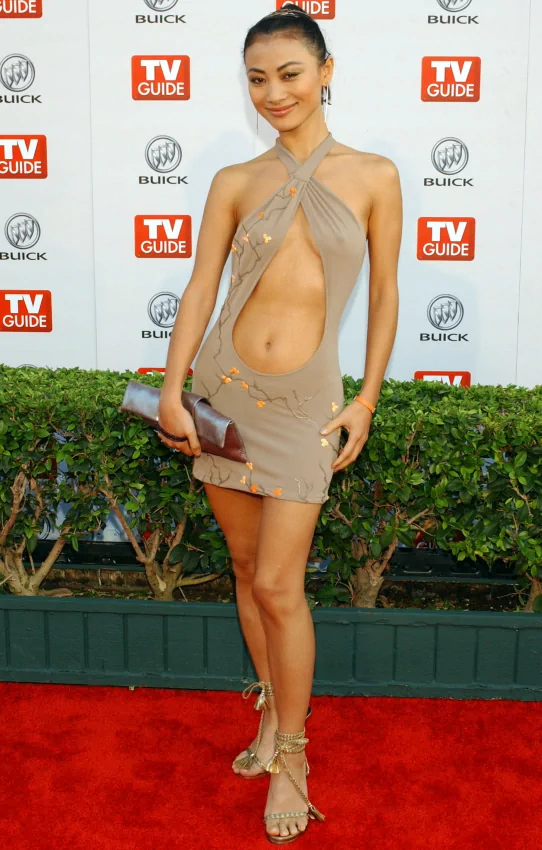 Can you believe Bai is 55 in the above picture? Well she is! Taken in August 2021, this was in Times Square in New York. Bai wears a hot pink cutout minidress, accentuating a figure most women half her age would give their right arm for. She has a great pair of legs as well. She was 48 in the photo below. How the hell does she keep in such fantastic shape!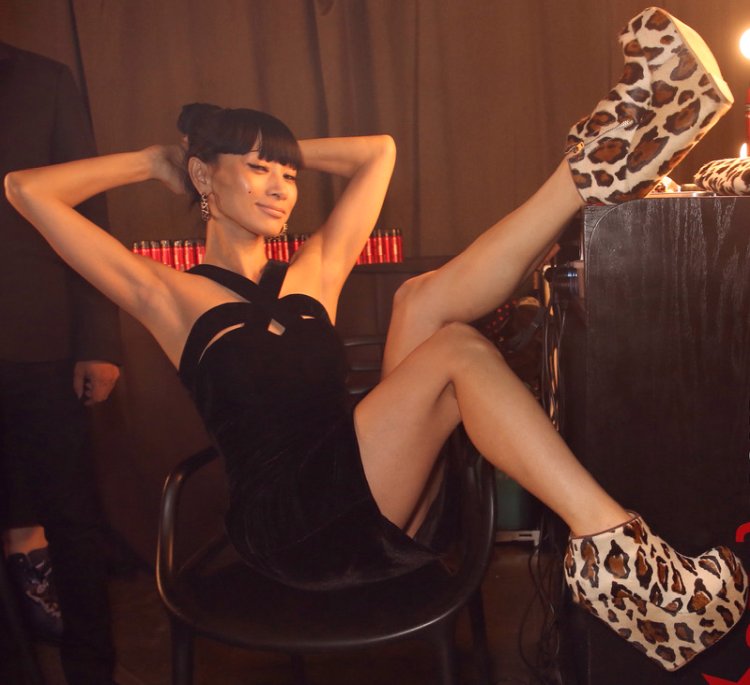 Well, Bai is quite the character, and long may her sense of fun and adventure continue. Truly a role model for people everywhere!