As pretty as she is, the feature Miley Cyrus flaunts most is her attitude. Love her or hate her, you can't deny she exemplifies living by your beliefs. She's well known of course for some of her 'wilder' antics and penchant for pushing boundaries but at heart Miley expresses herself and her opinions with gusto. Let's take a look at some of Miley's best pictures highlighting her beauty, and grab some facts and info on her along the way!
Miley Cyrus rose to fame playing the lead role of Miley Stewart/Hannah Montana on the Disney Channel series "Hannah Montana" (2006-2011).
She comes from a musical family, as her father is country singer Billy Ray Cyrus.
Miley Cyrus has released several successful albums, including "Breakout" (2008), "Can't Be Tamed" (2010), and "Bangerz" (2013).
Cyrus has been a frequent performer at major events and award shows, including the Grammy Awards and the MTV Video Music Awards.
Miley In A Gorgeous Backless Dress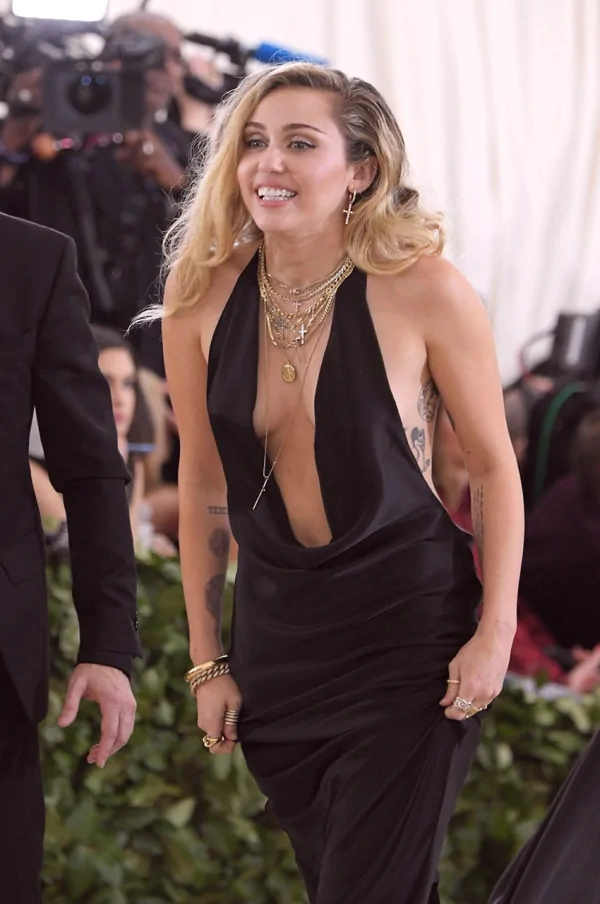 Attending the Met Gala in 2018, Miley showed she could mix it up by donning this amazing formal backless dress. A very different style than we are used to seeing from Miley, and she looks out of this world all glammed up.
Miley In Versace Dress & Heels
More gorgeousness from the usually dressed-down Miley. Here she is in a Versace dress, and a pair of high heels. Unheard of a few years ago, Miley shows off her shapely legs far more these past few years with stilettos than she used to.
If you are a fan of Miley (and even if not, to be honest) you'll know she has appeared in many nude photoshoots (link is nsfw). That ties in with her attitude we so admire of hers. Not the actual pictures (though of course I admire those as much as the next person!); Rather her desire to express herself how she sees fit. For me that's an admirable quality, regardless of whether I agree with whichever expression is being put forward.
Amongst her other traits, Miley is also a vocal supporter of the LGBTQ+ community and has actively campaigned for LGBTQ+ rights. The Tennessee born songstress has a deep set belief in the 'rights and wrongs' of the world (don't we all?!) and uses her platform as a celebrity to do what she feels is good. Being famous and pretty has other benefits as well as the obvious ones!Again – not agreeing with someone's causes doesn't detract from admiring for standing for what they believe in. In that respect, hats off to Miley for her focus wherever she chooses to point it. Miley Cyrus has been involved in many philanthropic activities and charitable causes. She launched the Happy Hippie Foundation in 2014, which focuses on supporting homeless and LGBTQ youth. Good for her, and those she helps!
As well as her charity work, Miley has been a coach on the reality TV show "The Voice" for multiple seasons, mentoring aspiring singers. One can only admire her for giving back to the profession that gave her so much fame. As well as her singing career, Miley was also of course an actress. A list of her tv and movie credits can be found on her IMDB page. A lesser known fact is that Miley made guest appearances on "Two and a Half Men" and "Black Mirror."!
That about wraps up this quick refresher on Miley as well as that look at her in somewhat daring attire like the backless dress, and that beautiful Versace outfit too. Proving that even though yes, Miley often shocks by stripping off her clothes, she looks just as pretty fully dressed and all dolled up!