Joan Collins, a name synonymous with glamour, elegance, and timeless beauty, has captivated audiences around the world for over six decades. Her career, spanning film, television, theater, and literature, is a testament to her enduring talent and magnetic presence. Admired for 6 decades by men of a certain age, Joan is one of the prettiest actresses ever to grace the big screen.
Early Life and Beginnings
(Now) Dame Joan Henrietta Collins, born on May 23, 1933, in Paddington, London, was destined for the limelight. She was the daughter of Elsa Bessant and Joseph William Collins, both of whom were involved in the entertainment industry. Joan's father was a theatrical agent, and her mother was a dance teacher, laying the foundation for young Joan's future career.
Joan's journey into showbiz began as a child actress. She made her stage debut at the tender age of nine in the play A Doll's House. Her precocious talent was evident from the start, and she soon transitioned to film, making her big-screen debut in the British film Lady Godiva Rides Again in 1951. However, it was her role in The Girl in the Red Velvet Swing (1955) that garnered her international attention, setting the stage for her Hollywood career.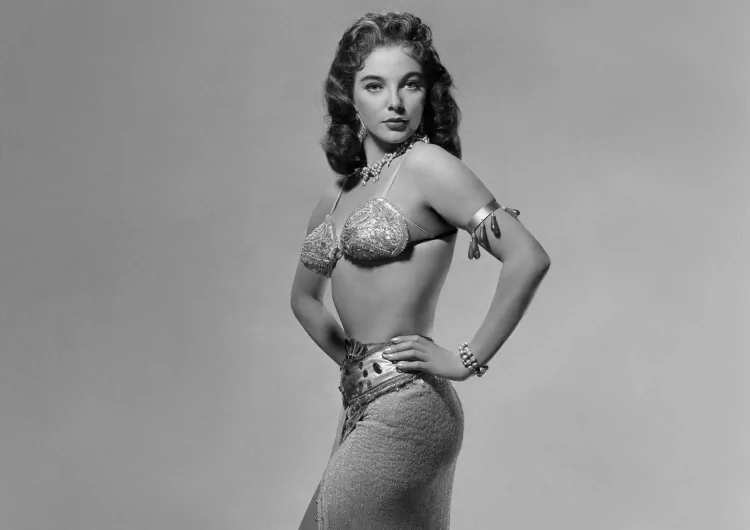 Popularity and Iconic Roles
Throughout the 1950s and 1960s, Joan Collins continued to build her reputation as a talented and versatile actress. Her performances in films like The Wayward Bus (1957) and The Opposite Sex (1956) showcased her acting prowess. She also starred in 70s movies such as The Stud, Alfie Darling, and The Bitch where Joan stripped nude for the roles, as well as appearing in Playboy.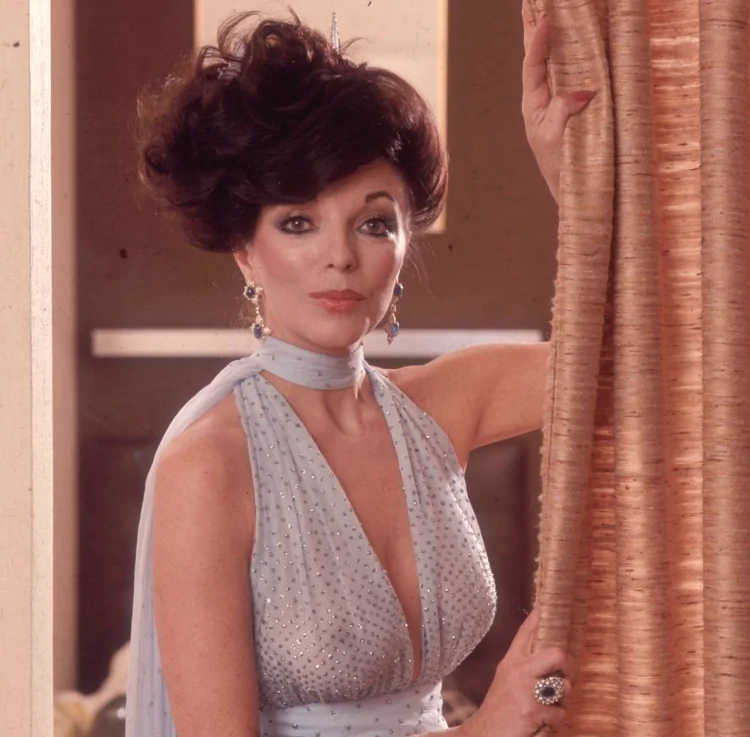 Despite the raised eyebrows at Joans saucy antics in the 70s, it was her role as Alexis Carrington Colby in the hit television series Dynasty (1981-1989) that catapulted her to global stardom.
Alexis Carrington, the conniving and glamorous character Joan portrayed on Dynasty became one of the most iconic villains in television history. Her catfights with co-star Linda Evans (Krystle Carrington) and her impeccable fashion sense made Alexis a beloved character despite her wicked ways. The show's immense popularity and Joan's unforgettable portrayal earned her a Golden Globe Award for Best Actress in a Television Series Drama in 1983.
Joan Collins's appeal wasn't confined to the screen. She also graced the stage, performing in a variety of theatrical productions, including Private Lives and The Last of Mrs. Cheyney, both of these productions proving her exceptional range as an actress.
Awards and Accolades
Joan Collins's illustrious career has been recognized with numerous awards and honors. Apart from her Golden Globe win for Dynasty she received a star on the Hollywood Walk of Fame in 1983, cementing her status as an entertainment icon. In 2015, she was made a Dame Commander of the Order of the British Empire (DBE) for her services to charity, entertainment, and the arts.
Her contributions to the entertainment industry have also earned her Lifetime Achievement Awards from institutions such as the Women in Film Crystal Awards and the GLAAD Media Awards.
Scandals and Controversies
Despite her image as a refined and poised actress, Joan Collins has not been immune to controversies. In the 1980s, during her peak fame on Dynasty Joan became embroiled in a series of personal and professional scandals.
One of the most notable incidents was her highly publicized feud with fellow Dynasty star Linda Evans. Their on-screen rivalry was said to have spilled over into real life, leading to tense moments on set and media-fueled speculation about their relationship.
Additionally, Joan's personal life had previously made headlines when she filed for divorce from her second husband, Anthony Newley, in 1970, sparking a contentious and public legal battle. These personal tribulations were a stark contrast to her glamorous public persona.
Trivia and Legacy
Beyond her acting career, Joan Collins has left an indelible mark on popular culture. Here are some interesting trivia and aspects of her legacy:
Literary Success: Joan is not only a talented actress but also a prolific author. She has penned several novels, including the best-selling Hollywood Wives, which was later adapted into a successful television miniseries.
Iconic Fashion: Her impeccable fashion sense and glamorous style have made her a fashion icon. She has been featured in numerous fashion magazines and has even launched her own line of beauty products.
Dynasty Reboot: In 2017, Joan Collins returned to the world of Dynasty in the rebooted version of the series. This marked a triumphant return for her iconic character, Alexis Carrington.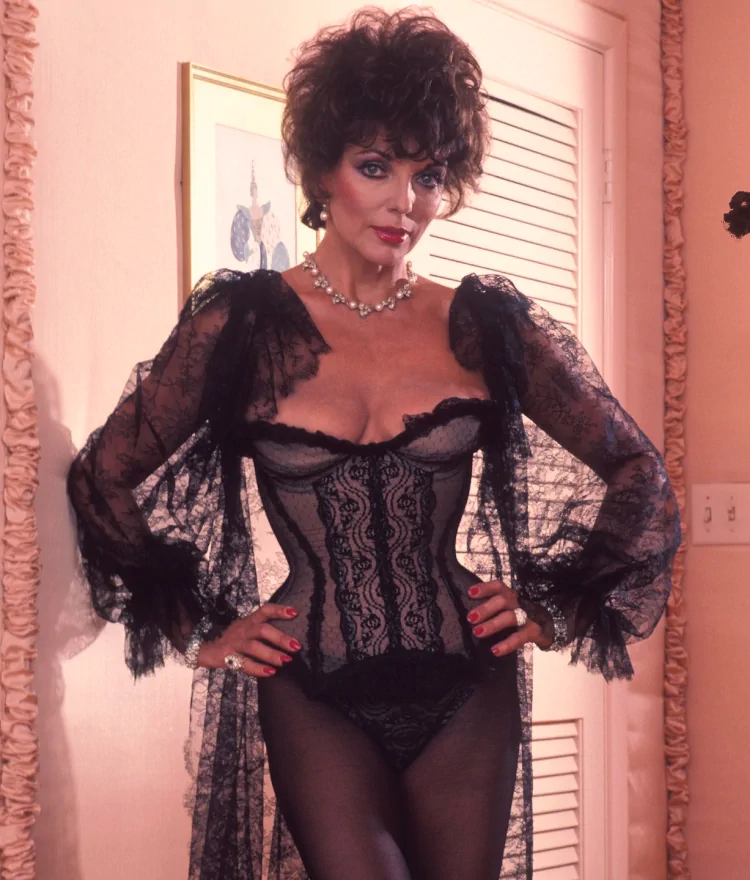 Truly a Hollywood great, Joan's pretty face has been highly ranked amongst the famous for multiple decades. Not many celebrities can claim that achievement!